Sakamoto Ryouma (坂本 龍馬) is a character in Inazuma Eleven GO Chrono Stone.
Appearance
Edit
He is a well rounded guy and has blue hair and blue eyebrows with black eyes. He has two katanas (swords) with him for most of the time and he wears turqouise japanese traditional clothing. He is shown to be wearing the Raimon uniform in Episode 27.
Personality
Edit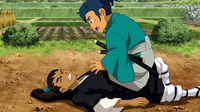 He is carefree and a joyous person but when the situation calls, he can be serious. He is also a serious eater. It was shown that he can learn the things very quickly, much like
Kageyama Hikaru
.
He first appears to the Raimon team falling down from a hill and landing on top of Nishiki Ryouma. Afterwards, he watched half of the Raimon team fight against Zanak Domain and is impressed by their skills, specially after Kageyama used Extend Zone to score a goal. He invites them to eat with him, in which he over-eats too much. Suddenly, some clansmen from Okita's side barge at the room and it is revealed that he's Sakamoto Ryouma, what shocked everyone.
Recruitment
Edit
In order to recruit Sakamoto, you need to beat The Lagoon and also need to have:
Item: Restoration Riceball (Obtained at the end of Chapter 7)
Item: Kidokawa's Original Dip (Dropped from Owari Braves)
Topic: Foreign Language (Around the Second Raimon Building (Present))
Encounter: Meet Sakamoto! (Restaurant)
After this, he can be scouted by an amount of 4000 Kizuna Points.
At Lvl. 99
GP: 147
TP: 118
Kick: 109
Dribbling: 157
Block: 107
Catch: 102
Technique: 112
Speed: 75
Stamina: 156
Lucky: 133
Game Exclusive Teams
Edit
Community content is available under
CC-BY-SA
unless otherwise noted.