Kinoshita Toukichirou (木下 藤吉郎) was the coach of Raimon in the Sengoku era.
Appearance
Edit
He has brown hair and he wears a brown green jacket and white pants.
Sengoku Era
Edit
He saw the event when Shiroshika's members were about to injure Tasuke so he intervened. Later, he was seen talking with Shindou, where he said that he wants to be like Nobunaga.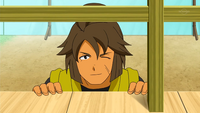 In the
Episode 14
, he convinced the man who was organizing the whole event to let Tenma's team into the stage. He then gave a ball to Tenma, so they could be able to distract
Nobunaga
so Wonderbot could
Mixi Max
him with
Shindou
. However, it didn't work due to
Beta
's interference.
In Episode 15, he was coaching Raimon in order to get ready for the match against Protocol Omega 2.0. He also called the friends of Tasuke to learn soccer and in order to train. He also told Shishimaru, Tasuke and Gorouta to learn Ichiyajou, a block hissatsu.
In Episode 16, Toukichirou remarked how Tasuke, Shishimaru and Gorouta, who had to learn Ichiyajou, were able to maintain their balance, and then told them it is the key to succeed that hissatsu.
In Episode 17, after Beta scored Protocol Omega 2.0 second goal, Toukichirou reflected that if the match continued by that way, they would lose and that he must restore his "army" strenght. As Raimon made the kickoff, he said that the enemy was in advantage and that they had to play with calm. After the match between Raimon and Protocol Omega 2.0, Nobunaga invited him to be one of his leaders, which Toukichirou quickly accepted.
Recruitment
Edit
In order to recruit Kinoshita, you need to beat The Lagoon and also need to have:
Player: Tasuke
Player: Densuke
After this, he can be scouted by an amount of 2600 Kizuna Points.
Inazuma Eleven GO Chrono Stone
Edit
At Lvl. 99
GP: 136
TP: 126
Kick: 64
Dribbling: 98
Block: 149
Catch: 107
Technique: 136
Speed: 100
Stamina: 102
Lucky: 117
Inazuma Eleven GO Chrono Stone
Edit
Coach Effect
Edit
Inazuma Eleven GO Chrono Stone
Edit
Power of Defensive Tactics increased by 10.
Game Exclusive Team
Edit
Inazuma Eleven GO Chrono Stone
Edit
Community content is available under
CC-BY-SA
unless otherwise noted.