Inazuma Eleven GO 2: Chrono Stone (クロノストーン) is the second game of the Inazuma Eleven GO series and the fifth installment of Inazuma Eleven games.
---
There are two versions of the game, the names are Neppuu (ネップウ, Hot Wind, Scorching Wind) and Raimei (ライメイ, Thunder, Thunderclap).
The release for the 2 titles is scheduled for December 13, 2012.
Version Differences
Edit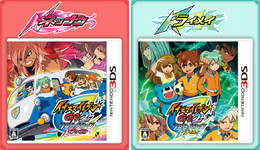 The story begins when?
Tenma
returns to Raimon Junior High, but finds that things have changed. The Raimon members are not soccer players. In fact, there is no soccer club at the school.
Shinsuke
is in a different club from Tenma. Is this a parallel world? Tenma wonders. That's when
Alpha
appears before him.
A future organization called El Dorado is an organization formed by the future world's countries to deal with important matters of world affairs, and for some reason, they've determined that soccer must be destroyed. To do so, they have assigned Alpha and his team, Protocol Omega to the mission of ridding soccer from the world.
Community content is available under
CC-BY-SA
unless otherwise noted.