Dorimu (ドリム) is a midfielder of Protocol Omega 2.0.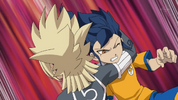 He has light blond hair and he wears purple glasses which covers his eyes. In the middle of his forehead, there is a visible jumped vein. He wears the Protocol Omega 2.0 soccer uniform with the number 5 at the back.
He first appeared in the Episode 5 along with Protocol Omega 2.0. At the kickoff, he violently tackled Tsurugi. He later tried to do the same with Tenma, but he used Wonder Trap to evade the tackle and steal the ball.
In Episode 6, as Tenma stated that he can't use Keshin Armed, he said that it was a shame and violently tackled the Raimon's player, throwing him to the side. He then proceeds to touch the ball to Beta. Later, Dorimu hurt most of the members of Raimon and also got a red card because he tackled Hikaru violently but continued to play. After that, he also tackled Aoyama violently. At the end, Protocol Omega 2.0 won with 11-0.
In Episode 10 and Episode 11, he appeared again with his team and challenged Raimon for a match. When Raimon was in the lead, Beta used Ghost Mixi Max on Protocol Omega 2.0. At the end, Protocol Omega 3.0 won with 5-3.
In Episode 16, he appeared again with his team and fought against Raimon in the Sengoku era. After Beta used Ghost Mixi Max, Dorimu got more power and let Shindou flying. At the end of the episode, Protocol Omega 2.0 was in lead with 2-1. But at the end of the match, they lost with 3-2 due to Shindou mastered his Keshin Armed and laer, became Takunaga and used Setsuna Boost.
In Episode 18, he was sent to MUGEN prison.
To recruit Dorimu, you first need to complete the story modd. Also, you'll need to have:
Item: Route Craft License (Dropped from Omega Elites)
Topic: Selfawakeness
After this, he can be recruited for 2600 Kizuna Points.
At Lvl. 99
GP: 133
TP: 118
Kick: 102
Dribbling: 133
Block: 96
Catch: 95
Technique: 123
Speed: 119
Stamina: 97
Lucky: 66
Community content is available under
CC-BY-SA
unless otherwise noted.