Bahamusu (バハムス) is a midfielder of Protocol Omega 3.0.
Appearance
Edit
Bahamusu has long ligth brown hair and yellow eyes. He wears standard Protocol Omega uniform.
Under Zanark Abalonic's control, his skins became tanned and his hair becomes wilder and light-silver.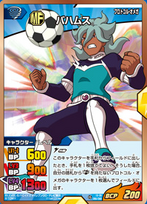 He first appears in
Episode 18
, where he was chosen to be a member from
Protocol Omega 3.0
, replacing
Dorimu
. Later, he and his teammates were badly beaten by
Zanark Abalonic
, a S-Rank criminal who had escaped from
El Dorado
's Eternal Prision. He was later
Mixi Maxed
with him, being put, in the process, under his control.
In Episode 19, he appeared with his team and Zanak in a forest. Protocol Omega 3.0 was showing their new power to Zanark. When it was Bahamusu's turn, he shot and destroyed some trees.
In Episode 20 and Episode 21, he fought, along with his teammates, against Raimon. In the first half, Protocol Omega 3.0 was in lead with 1-0 because Gamma released his Keshin, Jinrou Lycaon, and scored the first goal. In the second half, Bahamusu was seen trying to get away from Shindou as seen Shindou was seen trying to steal the ball. Later, he received the ball from Orca but immediately lost it because Shindou and Kirino both sliding tackled him. At the end, Protocol Omega 3.0 lost with 2-1 and they were sent to an unknown place by Zanark.
Recruitment
Edit
In order to recruit Bahamusu, you first need to beat The Lagoon. Also, you'll need to have:
Item: Route Craft License (Dropped from Omega Elites)
Photo: Car of the Future (Taken from the orange car in the future)
Photo: Fireplace
After this, he can be recruited for 2600 Kizuna Points.
At Lvl. 99
GP: 133
TP: 111
Kick: 73
Dribbling: 135
Block: 113
Catch: 107
Technique: 128
Speed: 109
Stamina: 97
Lucky: 90
Best Match Mixi Max
Edit
Game Exclusive Teams
Edit
He's one of the strongest Protocol Omega member, but he's also one of the least exposure.
Community content is available under
CC-BY-SA
unless otherwise noted.